Beauty culture was not a career Sarani Withanage imagine for her future when she was growing up.  She studied accountancy and wanted to work with numbers.  Yet today she is a highly successful beautician and entrepreneur.  She has her own beauty salon named 'Ohasha Salon' which in Pali means Shine.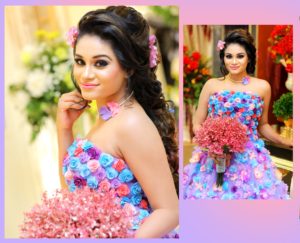 Sarani has created a name for doing make up and hair for brides and is looking forward to expand her business so that she will have more of her branches of 'Ohasha Salon'
According to Sarani, her parents were not happy when she switched from pursing accountancy to beauty culture.  Her interest in beauty culture started when she wanted to do her own make up and hair when going to office.  With this interest she realized her own capability and skills in beauty culture which opened up a whole new world in beauty and glamor.
Leaving accountancy aside she started learning beauty culture in 2009 and few years later she started her own beauty salon.  With that began her new journey as a beautician and hair dresses.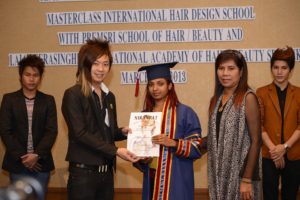 She has appeared in many TV programs to showcase her beauty skills and according Sarani her happiness is to help people become more beautiful with the skills she has that itself is worth for her to continue to be a beautician.
Her goal is to have her brand "Ohasha Salon' shines not only many cities in Sri Lanka but in other parts of the world as well.