'Crescent Global South Asia has transferred risk liability of Ceylon Petroleum Corporation (CPC), to A – Rated Lloyd's Syndicates and to A rated underwriters specializing in energy insurance,' says Indrajith Fernando, Director of Crescent Global South Asia, which brokered the new risk reinsurance cover for CPC, for National Insurance Trust Fund (NITF).
In line with insurance market practices, the local insurer – National Insurance Trust Fund (NITF) – will no longer be retaining 100% of the risk. The cover in place is not only supported by Lloyd's markets, but also by leading reinsurers from Singapore, and the global marine and energy insurance market.
CPC will be utilizing the expertise of the reinsurance market leaders supporting the programme to carry out comprehensive risk analysis, improving the risk quality of the insured property. The recommendations of these A-rated securities will help to reduce the size and frequency of future claims. Risk assessment of this standard is particularly important when handling a volatile commodity such as crude oil, and its derivative products such as petroleum.
'Everybody was doing a regulation job neglecting to innovate, do the right thing and also do the necessary hard work. For instance, there were no mandatory covers which are a must for specialized installations such as Ceylon Petroleum Corporation. But now while there would be risk surveys being carried out, the liability too is being taken by Lloyds Syndicates with A rated securities from the world's premier insurers, entailing substantial savings in premiums,' says T. G. Jayasinghe, the Chairman of CPC.
CPC had previously encountered issues during claims recovery as the policies in place lacked the holistic and professional approach towards insurance cover, that is now provided for under CPC's new insurance programme.
Reinsurance risk advisors of CSGA will be advising CPC officials on the finer aspects of their insurance programme, which will assist in improving the risk quality of CPC's assets. Most notably, they would be providing their expertise on the handling of claims related to CPC's technically sophisticated installations. As a member and founder of GBN Worldwide, CSGA will bring technical expertise and experience unrivaled in the Sri Lankan market, from 130 worldwide members.
In the event of an accident at the refinery or a storage calamity, the comprehensive insurance programme in place would ensure repairs and restitution are carried out efficiently, reducing the potential for any negative effects on Sri Lankan consumers and businesses.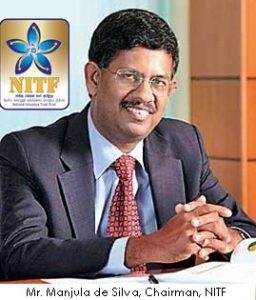 'The award of the insurance of a strategic enterprise such as the Ceylon Petroleum Corporation following closely on the heels of the awarding of Fitch Ratings, a National Insurer Financial Strength Rating (IFS) and National Long-Term Rating of 'AA-(lka)' with a stable outlook, bodes well, and builds a strong business profile for NITF as a leading insurer in the country', said Manjula De Silva Chairman NITF.
A great deal more work needs to be undertaken going forward to establish suitable risk management protocols within CPC and its subsidiaries, with particular emphasis on establishing internationally accepted practices in both risk presentation, analysis and risk transfer. This approach will be not only be with regard to  the Sri Lankan insurance market but also distributed globally for the benefit of our various stakeholders.
Crescent Global Insurance and Reinsurance Brokers is the first global player in the insurance and reinsurance business, to incorporate an insurance hub, and to have offices and investments in Sri Lanka.
The world's largest insurance market Lloyds of London can be accessed from right here at home, in addition to the access to all regional markets, including Singapore, Dubai.