Rihanna opened up about her thoughts on President Donald Trump, saying in a Vogue interview published this week that she thinks he's the "most mentally ill human being in America right now."
On Wednesday, the fashion magazine published an interview with the musician and beauty mogul where she was candid about her political beliefs and distaste for the president.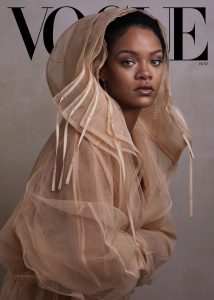 Rihanna said it's "devastating" to live in a country with back-to-back shootings, noting the mass shootings that took place within one day of each other in El Paso, Texas, and Dayton, Ohio.
"People are being murdered by war weapons that they legally purchase. This is just not normal. That should never, ever be normal. And the fact that it's classified as something different because of the color of their skin? It's a slap in the face. It's completely racist," said the 31-year-old.
"Put an Arab man with that same weapon in that same Walmart and there is no way that Trump would sit there and address it publicly as a mental health problem," she said. "The most mentally ill human being in America right now seems to be the president."
The native Barbadian talked about being an immigrant in America right now, telling the publication that she doesn't even know what to say to young immigrants growing up in this time.
"What do you say? What can you say? It's gonna get better? I almost feel sick to my stomach. I don't even believe this is happening in real life. In front of my eyes. In front of the world. It's not even hidden. This is blatant," she said.
Source: HUFFPOST -By: JENNA AMATULLI