The intricate emotional process which is very much a applied process is also instinctive when it comes to innately gifted singers such as Anushka Madubashini.  Anushka hails from 'Devata' a small village close to Galle.  She was a past pupil of Sangamitta Girls College Galle.   She had been handicapped from her young days since her father's demise when she was in Grade three only nine years old.  Calamity struck her family as her mother had to boost the family which comprised of another younger sister against many restrictions.
Anushka was nevertheless strong-minded to excel in studies and art accomplishing many milestones in music at school. As a teenager she had won several All -Island awards consecutively in singing from year 2003 to 2008, a unique achievement. She possesses a wide vocal range and could sing folk to pop songs.
The exposure of innate abilities to sing was after her performances in Derana Dream Star season two, eight years ago. She was a forerunner for the title, however owing to the rampant SMS precedent she was eliminated.  It is pertinent to cite that Anushka gathered accolades from explicit invites like Vasantha Dukgannarala,Lakshman Wijesekera,Indrani Perera,Annesly Malewena,Bathiya and Santhush etc. The former quipped that Anushka possesses a traditional folk voice while the latter duo were delighted with her voice and singing style added that she sings with a lot of soul for the audience to "feel" which is primarily what a singer should possess in abundance.
Anushka won Sri Lanka youth awards in singing category in years 2014 and 2015. She dislikes fame and desires to stay low profile. She is very reserved type who does not speak much. After her triumph in the Dream Star contest when there was ample prospect for her to rise to stardom, nevertheless she persisted to be low profile. Anushka had snubbed offers astonishing many in the field by not accepting offers to sing. Her voyage in this conservative field was snail's tempo with no intent for monetary growths.
She hardly sang on stage but only selected to sing only at random and of course willingly for charity. What was haunting in her was to pursue a career for a University degree in Ethnomusicology. Her dream was met when she was selected to the University of Visual and Performing Arts. After graduation obtaining bachelor's degree with 1st Class honours she opted initially for a year to be the music teacher at the Lyceum International School in Galle. However, she wished as prudent to accept considering a career in music a post of visiting lecturer at the University of Visual and Performing Arts to date where she got the opportunity to lecture in the same department, she studied practical and research Music. Her contemporary aspiration on which she is working on now is to read for a PhD in Ethnomusicology in an overseas University preferably in Germany. When she achieves this ambition Anushka's fervent wish would be to impart her vast expertise to the massive Sri Lankan music arena as the first in Sri Lanka conferred on a PhD in her field.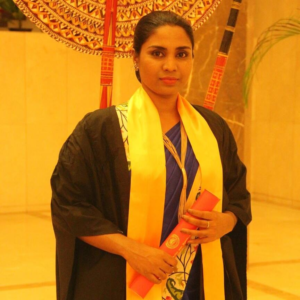 Owing to her demanding and cumbersome agenda in travelling to and from Colombo from native humble home in Devata close to Galle, of course added with her University obligations, during her last few years she had only concentrated in working in "Derana Dell Studio" with music titan Mahesh Denipitiya whom she asserts as her music maestro and also at Singhagiri studio. Anushka had toured Melbourne once with the Derana Dream Star colleagues in year 2010, twice in the latter years had toured all states in Australia with the Mahesh Denepitiya orchestra where she was primarily a chorus singer. It was only in February this year she participated in the Mahesh Denepitiya's "Hitz Beatz" at Nelum Pokuna theatre. The justification of Anushka's snail's tempo stance is well illustrated by the reality that Anushka's first audio song "Ridunu then jeevithe bomai" which was officially launched only last year. The music route was by Aruna Gunawardena whilend lyrics by Amila Thenuwara. She won the best music award in State music awards for this song in year 2018.
In the context of the above it would be the fervent wish of all music lovers to diagnose Anushka's desires in her coveted melodious voyage.
By: Sunil Thenabadu
email sthenabadu@hotmail.com in Brisbane.