The year 1 undergraduate talent show of the students following the English programmes offered by the English Language teaching Unit of the University of the Visual & Performing Arts (U VPA)
"Aesthetic Initiative through English", a talent show organized by the English Language Teaching Unit of the University of the Visual and Performing Arts, was held on the 17th of December at the Lionel Edirisinghe Rostrum of the Faculty of Music of the university. The Chief Guest was the Vice Chancellor of the University, Snr. Prof. Sarath Chandrajeewa.  The aim of the event was to showcase the English language skills and performing skills of the first year students of the university.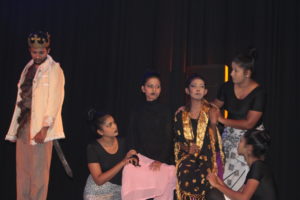 Head of the ELTU, Senior Lecturer Sumudu Embogama stated that this talent show was meant to provide an enabling platform for the freshers to demonstrate their creative talents using as the medium of expression, the English language.  The selection of short English plays were done by getting all the students to perform a short English play of their choice as part of the assessment mechanism of the first year English programme.  Students were placed into groups and given the choice of adapting or writing a drama script and then they were given ample time during English class sessions to select and practice their chosen items. Once the teachers evaluated each group, the best ones were selected to perform at the Talent show.
She further mentioned that the ELTU has begun conducting year 1 English classes from 8 a.m. to 10 a. m. on weekdays in all three faculties commencing from the 2016/17 academic year and that this initiative has resulted in the Unit from introducing such collaborative, activity based, student-centric teaching methods .  Ms. Embogama strongly believes that the morning dose of English has helped the students to overcome their inhibitions to use English and develop their English proficiency levels. She also expressed her gratitude to the Vice-Chancellor of the university, Senior Professor Sarath Chandrajeewa for spearheading such an initiative and for his constant support in all ELTU related activities.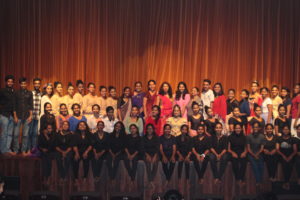 A selection of adaptations of the story of Daskon and Pramila, Oedipus, Macbeth, and an  original English comedy named Ahenakotath Karachchale.  In addition, two musical items performed by the year 1 students of the Faculty of Music added much colour to the show. The Head of the ELTU also mentioned that she received tremendous support from the senior, temporary and visiting staff members attached to the ELTU in order to contribute to the immense success of this event which was witnessed by a packed audience.
By: Darshani Abeyrathna