It is true fact that each individual is born to this world clasping one talent to serve a purpose.  Yet Doctor Prasad Deshariya has proven the fact that if there is a will, there is a way.
By profession, he is an acupuncture doctor yet he has been able to win the hearts of people as a role model and as a young leader who has excelled in many fields. Apart from being a doctor Prasad always stands up and raise his voice against injustice. He always goes an extra mile to put smile on needy people.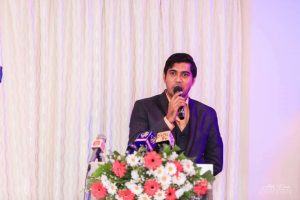 "As a result, I have put myself in trouble too' speaking to Boston Lanka he said. I do want to balance both careers as much as I can, I feel blessed to do these professions at the same time. If you do your job properly you surely will learn a lot from any role you do. I also want to highlight the fact that be happy and love what you do. It is simply because there are not many jobs where someone in the town will give you a pat on the back and say Hi to you, he added.
He strongly believes that youth must always wear her or his confidence in order to voice their dream. Young Prasad always believes that nothing impossible to a willing heart and if the heart is willing, nothing is impossible under the sun.   "Displaying many talents in different areas and excel in the field of medicine motivates me to get out of the bed in each and every morning."  Motivator would be the perfect notion to describe Dr.Prasad.  Speaking on how he generates new ideas he explained that "each day we are trying to make a bundle and step closer to the success."  Then again there is always a little negative voice in the back your head which runs the show. You should not allow that negativity to destroy your creativity. He described the fact that "going to college might not be the ticket to success as everyone believes and not getting a college degree doesn't guarantee failure. It's my enthusiasm to get up over and over again when failed. Whether huge or tiny, it doesn't matter –I just count my wins and blessings!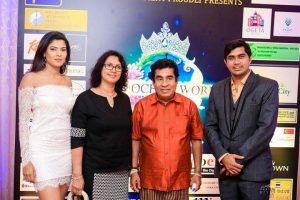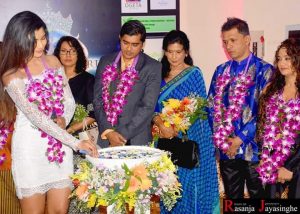 When asked about why he came up with an idea like Mrs.Ocean World he said that we should make a room for Sri Lankan to represent our talents in Internationale podiums in foreign soils.
This is for the women who are ready to clear a space and cry  a thousand crystalline drops till the sky clears."Keep your chin up, keep being proud, and keep doing the important work of living and loving on your own terms".
They spend every second of their lives just to make everyone happy. But who holds them up? Women are faced with numerous challenges, obstacles and hardships. But a handful of women in our society have proved themselves to society by overcoming these challenges and achieving success without backing down. Women always hold the half of the sky. He explained.
He went on to say that Mrs.Ocean World 2018 is a great success and they were able to select 23 finalists from 800 participants. We are going to have a Talent Round on 24th of October at the Ministry of Tourism and Christian Affairs auditorium in order to prove the fact the competition is not just about the pretty faces. The girls are beauty with brains.
He furthermore highlighted the fact that he has given these beautiful girls a chance to fly high and they are capable of doing anything as women hold the half of the sky.
Finally he highlighted the fact that Grand Finale of Mrs.Ocean World 2018 will be held on 23 rd of November at Galadari Hotel and the winner will be crowned and whoever she is she will have a great future as a Sri Lankan.
By Darshani Abeyrathna